A Letter of Thanks from the Salvation Army
Bishop Routhier School has recently received a letter from the Salvation Army thanking us for the donation of $1032.00 that was raised last year for Fort McMurray! Click on the link below to see the letter.
School News
School Board Trustee Elections information for parents and community members
Posted on

October 12th, 2017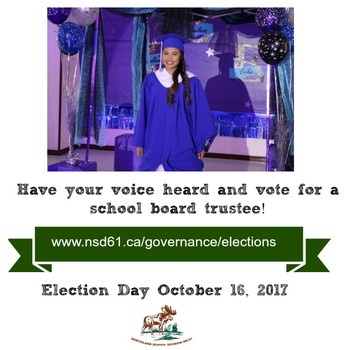 Do you want to ensure Bishop Routhier School students are strong in identity, healthy and successful? Have your voice heard and vote for a school board trustee! School Board Trustee Election Day is October 16th.
Voting will take place at Bishop Routhier School between the hours of 10:00 a.m. and 8:00 p.m. 
In order to vote: you must produce identification for inspection.  The identification must be one or more piece(s) of a government-issued identification containing the elector's photograph, address and name.  This includes an Operator's (Driver's) license or an Alberta Identification card.  In addition, if your government-issued identification has a box number as your address you must produce a second document that contains your civic and/or legal land address.
Click here to view a map of Ward 3 - Peavine Metis Settlement and Gift Lake Metis Settlement. 
For more information please visit the Northland School Division website http://nsd61.ca/governance/elections.